Water Supply System Installation Services
Here at enviroΨlogix, we design many different types of systems but each one starts with a plan. We listen intently to your needs, wants, and desires then we formulate a plan to achieve your goals. This plan is presented to you with every detail in mind and a proposal that identifies each step with a cost, you know up front, with the added luxury and peace of mind it's safe, durable, and dependable guaranteed!
Diagrams:
Piping and Automation
Potable Water System
UV Filtration and Aerator
Each of these systems has the same common features: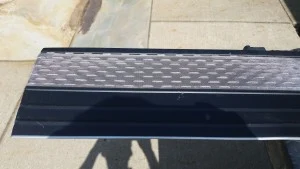 Filtration
Our one-of-a-kind, patented, seamless, gutter machine folds in an aluminum "mesh panel" gutter cover with a 500-micron stainless steel fabric. Water passes through this mesh before entering the conveyance piping or our in-line self-cleaning filter.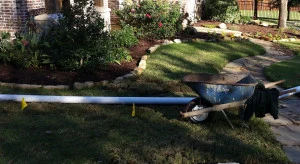 Piping
The piping system we utilize is schedule 40 PVC. The system is engineered to meet your specific needs with the necessary flows and outputs which optimize your system. All horizontal piping has a minimum fall of 1% to the tank with a means to drain the conveyance piping after each rain event. Great care is taken to avoid any standing water as water quality is foremost in our designs.
Attachment
On a gravity flow system, the schedule 40 PVC vertical downspouts are attached to the stone/wood/stucco with galvanized split ring clamps and ½" all-thread rod to the substrate. This creates an installation that lasts for years.
Automation
At the termination point of our conveyance system, many of our projects utilize a 1" solenoid valve activated by a rain sensor; a rain event closes the valve allowing the system to fill/operate. Once the rain event has ceased for 6 hrs. (or any manually set time) the valve opens releasing the remaining water from the conveyance piping system, creating a dry system (new twist of an existing design). The released water can be piped to a rain garden or bioswale design to recharge the aquifer not pollute the lakes. The 1" solenoid valve is a part of our innovative rainwater automation system, the first of its kind in this application. We intend to manipulate other features as well, such as tank water levels, pump operation, and system monitoring. The inventor of this automation system and I will be collaborating and hands-on in perfecting the different functions.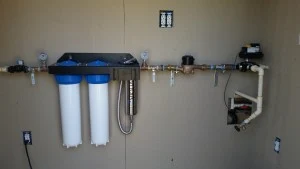 Potable Water Filtration
With the aid of a pump, cistern water (which is filtered to 250 microns) enters our filtration room first passing through a sediment filter which filters the to 5 microns and then through a carbon filtration unit to remove odors and continued filtration of 5 microns. Then the water passes through a UV treatment system which works by utilizing ultraviolet light, like that found in sunlight, to destroy microorganisms in water. UV water treatment is a proven technology with little-to-no drawbacks—it is environmentally friendly and virtually maintenance-free. The UV water treatment systems are the most reliable way to assure your water is free of bacteria. UV treatment has been proven to destroy 99.9% of harmful bacteria without adding any harmful chemicals, such as chlorine. As a trusted technology for over 25 years, UV water treatment is now being used by businesses, municipalities, water distributors, and homeowners around the world.
Aerator pump
Another important component for water quality is to supply air via a 3/8" hose to a diffuser at the center of the tank. This introduces oxygen thus creating a healthy bio-film. Bio-film is a healthy group of microorganisms in which cells adhere to the surface of the cistern. Much like an aerobic septic system, these good "aerobic" bacteria consume harmful pathogens.